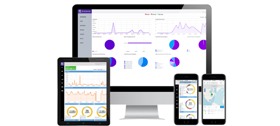 Extreme CLOUD™ IQ
ExtremeCloud™ IQ helps organizations automate end-to-end, edge-to-DC network operations, unlock new analytic, and secure and optimize the end user and application experience.
Edge to Data Center solutions for all of your network needs.
Management, intelligence, & assurance to optimize both your network and business. Real-time dev, continuous ML/AI innovation.

ExtremeRouting MLX Series
Multiservice IP/MPLS Core, WAN Edge, Border Router, IPSec Router and Network Packet Broker.
Built with a state-of-the-art, sixth-generation, network processor- based architecture and terabit-scale switch fabrics, the MLX Series provides a rich set of high-performance Layer 2/3, IPv4, IPv6,
Multiprotocol Label Switching (MPLS), wire-speed encryption, and Software-Defined Networking (SDN).

Extreme X440-G2
The ExtremeSwitching X440-G2 series is a scalable cost-effective family
of edge switches powered by Extreme Networks ExtremeXOS, a highly
resilient OS providing continuous uptime, manageability and operational
efficiency

Extreme X465
The ExtremeSwitching X465 Series is a premium stackable switch family
providing high-performance, convergence-ready, resilient and secure
Gigabit and multi-Gigabit Ethernet connectivity. Powered by ExtremeXOS.

Extreme ERS 3600 Series
Feature-rich Ethernet Switch platforms leveraging nextgeneration technology optimized for the Branch Office and
smaller Wiring Closets. Extreme Networks Ethernet Routing
Switch 3600 products sport the performance and agility to
excel in conventional IP network deployments in additional
to enabling the edge for Fabric-based solutions.

Extreme ERS 4900 Series
Next-generation, high-performance, feature-rich Ethernet
Switch platforms specifically optimized for the Wiring Closet
demands of the mainstream Enterprise. Extreme Ethernet
Routing Switch 4900 products deliver the agility to perform
equally in conventional IP and Ethernet Fabric-based
networking solutions.

Extreme SLX 9150
Compact fixed form, purpose-built high density 1/10/25/40/100 GbE cost-effective Leaf Switches with built-in Extreme Fabric Automation designed for the needs of Enterprise data centers and service providers.

Extreme SLX 9740
Next-Generation Fixed Form Router for Core Aggregation at Service Providers and Large Enterprise Data Centers

ExtremeRouting SLX 9540
Next-Generation Fixed Router with Flexible Edge Connectivity for the Digital Organization.
The ExtremeRouting SLX 9540 is designed to cost-effectively deliver
the performance needed to address the explosive growth in network
bandwidth, devices, and services — today and well into the future