Keysight Patch Taps – Integrated Fiber Optical Taps
For use in patch panels and fiber distribution frames.
Single mode fiber speeds of 1G, 10G, 25G, 40G, 50G and 100G.
Bend-insensitive fibers.
Lower latency that traditional fiber taps.
No exterior housing.
Multimode fiber speeds of 1G, 10G and 25G.
50/50 and 70/30 split ratios supported.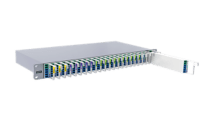 Keysight Flex Tap Passive Fiber Optical Taps
50/50, 60/40, 70/30, 80/20 and 90/10 split ratios supported.
Fully modular product — anywhere between 1 and 36 taps in a 1U 19 inch rack.
"Mix and Match" different speeds and fiber types in one chassis.
Prepopulated chassis with either 8, 16 or 24 modules available at a discount.
Support speeds from 1G to 400G.
LC, MTP and BiDi deployments supported.
Keysight Copper Taps
Passes all network traffic – not reliant on SPAN ports. Speed, link and activity. Link Fault Detect prevents undetected network link failures. DIP switches for configuring, duplexing, auto-negotiation and speed settings.Models of copper taps:
TP-CU3-ST, 10/100/1000 Copper Tap
TP-CU3-ZD, 10/100/1000 Copper Tap
TP-CU3-ZD-DC, 10/100/1000 Copper Tap