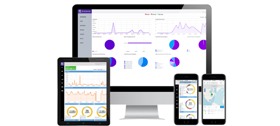 Extreme CLOUD™ IQ
ExtremeCloud™ IQ helps organizations automate end-to-end, edge-to-DC network operations, unlock new analytic, and secure and optimize the end user and application experience.
Edge to Data Center solutions for all of your network needs.
Management, intelligence, & assurance to optimize both your network and business. Real-time dev, continuous ML/AI innovation.

ExtremeRouting MLX Series
Multiservice IP/MPLS Core, WAN Edge, Border Router, IPSec Router and Network Packet Broker.
Built with a state-of-the-art, sixth-generation, network processor- based architecture and terabit-scale switch fabrics, the MLX Series provides a rich set of high-performance Layer 2/3, IPv4, IPv6,
Multiprotocol Label Switching (MPLS), wire-speed encryption, and Software-Defined Networking (SDN).

Fortinet FortiSwitch 108E
Ports: 8 GE RJ45 + 2 SFP
PoE: N/A
Uplink Capability: 2 GbE (2x 1 GbE)
Primary Port Type: 1 GbE

Fortinet FortiSwitch 108F
Ports:7x GE RJ45, 1x GE/POE-PD RJ45
PoE: N/A
Uplink Capability: 2 GbE  SFP(2x 1 GbE)
Primary Port Type: 1 GbE
Switching Capacity (Duplex) 20 Gbps
Packets Per Second (Duplex) 30 Mpps

Fortinet FortiSwitch 108F-FPOE
Ports:8x GE RJ45 and 2X 1GBE SFP
Uplink Capability: 2 GbE  SFP(2x 1 GbE)
Primary Port Type: 1 GbE
PoE: 130W – 8 PORTS (802.3af/at)
Switching Capacity (Duplex) 20 Gbps
Packets Per Second (Duplex) 30 Mpps

Fortinet FortiSwitch 108F-POE
Ports:8x GE RJ45 and 2X 1GBE SFP
Uplink Capability: 2 GbE  SFP(2x 1 GbE)
Primary Port Type: 1 GbE
PoE: 65W – 8 PORTS (802.3af/at)
Switching Capacity (Duplex) 20 Gbps
Packets Per Second (Duplex) 30 Mpps

Fortinet FortiSwitch 108E-POE
Ports: 8 GE RJ45 + 2 SFP
PoE: 4 port PoE+
Uplink Capability: 2 GbE (2x 1 GbE)
Primary Port Type: 1 GbE

Fortinet FortiSwitch 108E-FPOE
Ports: 8 GE RJ45 + 2 SFP
PoE: 8 port PoE+
Uplink Capability: 2 GbE (2x 1 GbE)

Fortinet FortiSwitch 124E
Ports: 24 GE RJ45 + 4 SFP
PoE: N/A
Uplink Capability: 4 GbE (4x 1 GbE)
Primary Port Type: 1 GbE

Fortinet FortiSwitch 124F
Ports: 24x GE RJ45 and 4x 10GE SFP+
PoE: N/A
Uplink Capability: 4 GbE (4x 1 GbE)
Primary Port Type: 1 GbE
Switching Capacity (Duplex) 128 Gbps
Packets Per Second (Duplex) 190 Mpps

Fortinet FortiSwitch 124F-FPOE
Ports: 24x GE RJ45 and 4x 10GE SFP+
PoE: 370W – 24 Ports (802.3af/at)
Uplink Capability: 4 GbE (4x 1 GbE)
Primary Port Type: 1 GbE
Switching Capacity (Duplex) 128 Gbps
Packets Per Second (Duplex) 190 Mpps

Fortinet FortiSwitch 124F-POE
Ports: 24x GE RJ45 and 4x 10GE SFP+
PoE: 185 W – 12 Ports (802.3af/at)
Uplink Capability: 4 GbE (4x 1 GbE)
Primary Port Type: 1 GbE
Switching Capacity (Duplex) 128 Gbps
Packets Per Second (Duplex) 190 Mpps