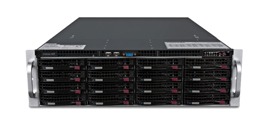 Fortigate 1000F
Firewall: 134-198 Gbps
IPS: 19 Gbps
NGFW:  15 Gbps
Threat Protection: 13 Gbps
SSL Throughput Inspection: 10 Gbps
Interfaces: 2 X 100 GE Qsfp28/40 GE Qsfp+, 8 x 25 GE SFP28/10GE SFP+ , 16 X 10 GE SFP+/GE SFP , 8 X 10/5/2.5/1 GE RJ45 , 1 X 2.5 GE/ GE HA , 1 X 10GE/GE RJ45 MGMT.

ExtremeRouting MLX Series
Multiservice IP/MPLS Core, WAN Edge, Border Router, IPSec Router and Network Packet Broker.
Built with a state-of-the-art, sixth-generation, network processor- based architecture and terabit-scale switch fabrics, the MLX Series provides a rich set of high-performance Layer 2/3, IPv4, IPv6,
Multiprotocol Label Switching (MPLS), wire-speed encryption, and Software-Defined Networking (SDN).

Fortinet FortiSwitch 424D
Ports: 24 GE RJ45 + 2x 10GE SFP+
PoE: N/A
Uplink Capability: 10 GbE (2x 10 GbE)
Primary Port Type: 1 GbE

Fortinet FortiSwitch 424D-POE
Ports: 24 GE RJ45 + 2x 10GE SFP+
PoE: 12 port POE+
Uplink Capability: 10 GbE (2x 10 GbE)
Primary Port Type: 1 GbE

Fortinet FortiSwitch 448D
Ports: 48 GE RJ45 + 4x 10GE SFP+
PoE: N/A
Uplink Capability: 40 GbE (4x 10 GbE)
Primary Port Type: 1 GbE

Fortinet FortiSwitch 448D-POE
Ports: 48 GE RJ45 + 4x 10GE SFP+
PoE: 24 port POE+
Uplink Capability: 40 GbE (4x 10 GbE)
Primary Port Type: 1 GbE

Fortinet FortiSwitch 448D-FPOE
Ports: 48 GE RJ45 + 4x 10GE SFP+
PoE: 48 port POE+
Uplink Capability: 40 GbE (4x 10 GbE)
Primary Port Type: 1 GbE

Fortinet FortiSwitch 524D
Ports: 24 GE RJ45, 4x 10 GE SFP+ and 2x 40 GE QSFP+ ports.
PoE: N/A
Uplink Capability: 80 GbE (2x 40 GbE)
Primary Port Type: 1 GbE, 10 GbE

Fortinet FortiSwitch 524D-FPOE
Ports: 24 GE RJ45, 4x 10 GE SFP+ and 2x 40 GE QSFP+ ports.
PoE: 24 port PoE with maximum 400 W limit.
Uplink Capability: 80 GbE (2x 40 GbE)
Primary Port Type: 1 GbE, 10 GbE